Coral Frenzy - The ULTIMATE Coral Food
The coral food that pushes boundaries with simplicity
Coral Frenzy Powder with Probiotics
The ULTIMATE Coral Food now even better. The formula has been revised for better nutrition along with the addition of probiotics to help maintain better water clarity. Coral Frenzy is the perfect alternative for those who do not have the time, discipline, or desire to feed live or frozen foods. With a long shelf life, you are assured that it will not spoil like live or frozen foods.

Since the beginning, every ingredient is listed on the label, so there is no question of what you are feeding. There are no "secret" ingredients or fillers; what you see is what you get. Every jar now carry unique serial numbers for the most concise product tracking system we can implement. Coral Frenzy can now trace any jar of our coral food down to the minute it was manufactured, offering the maximum ability to comply with current and future animal feed laws in municipalities in the US and abroad.

PARTICLE SIZE: 53-2300
Marine Fish Protein, Salmon Roe, Krill, Paracoccus, Schizochitrium, Arctic Copepods, Spirulina, Artemia, Rotifers, D. Salina, Probiotic blend

NUTRITIONAL ANALYSIS: Crude Protein (min) 53.7%, Crude Fat (min) 18%, Crude Fiber (max) 2.87%, Ash (max) 11.8%, Moisture (max) 6.26%, Omega 3 (min) 5.72 g/100g, Omega 6 (min) 1.02 g/100g, Omega 9 (min) 3.18 g/100g
Probiotic Blend: 1,000,000 cfu/g (min) Bacillus Subtilis & Bacillus Licheniformis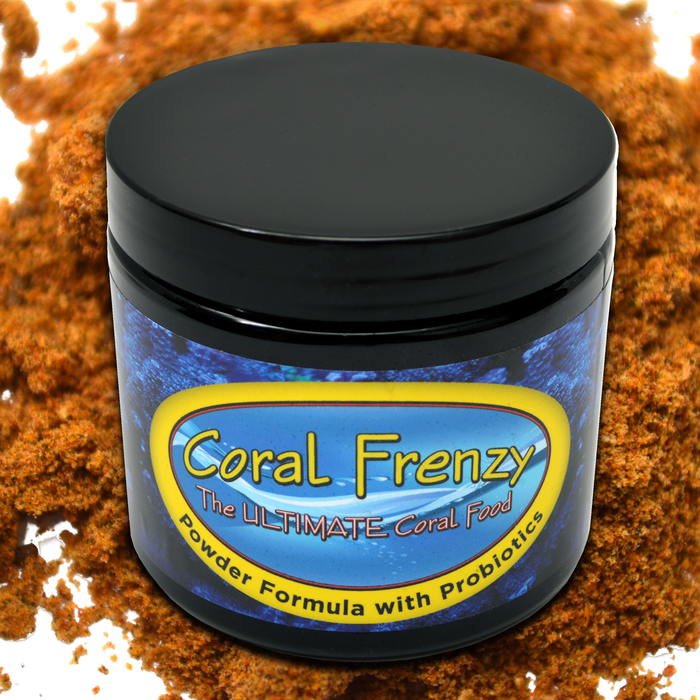 Coral Frenzy 0.5mm Reef Pellet
The New Coral Frenzy 0.5mm Reef Pellet has been revised to only have 5 ingredients. We have eliminated the need for additional fillers that were once needed in the pelletizing process. Less fillers = more nutrition and better water quality.

Coral Frenzy Pellet is an excellent food for your corals and small fish.
Since the beginning, every ingredient is listed on the label, so there is no question of what you are feeding. There are no "secret" ingredients or fillers; what you see is what you get. Every jar now carry unique serial numbers for the most concise product tracking system we can implement. Coral Frenzy can now trace any jar of our coral food down to the minute it was manufactured, offering the maximum ability to comply with current and future animal feed laws in municipalities in the US and abroad.

CONTAINS: Atlantic white fish protein, pulse protein, menhaden fish oil, phospholipid, marine hydrocolloid

NUTRITIONAL ANALYSIS: Protein(Min) 60%; Fat(Min) 15%; Fiber(Max) 1.7%; Ash(Max) 14%; Moisture(Max) 8%; Calcium 2.2%
Testimonials
Been using Coral Frenzy for 6+ years
and my zoas have never been happier!
I've been using this product for 11+ years, best product on the market. The corals love it, the growth and color that come out of them is extraordinary.
I have been using this coral food for the past 2 years and must say it really is a great food. I highly recommend this coral food to everyone!
i love the density, particle size and of course the nutritional profile. It is on the very short list of my go to staples for culturing all sorts of organisms!
My corals love their foods, makes feeding easy and our colors are insane. Thanks for making a quality food!
I've been using this food for years and my fish love them! It's nice to see the ingredients on the label as well.